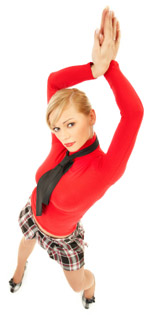 A good image is worth a thousand words, use them to add impact, humor and personality to your writing.
Selecting images that get noticed is an art itself and a few things need to be kept in mind during the selection process:
1. The Internet audience is overwhelmingly male.
2. People are attracted to pictures of people, particularly faces.
3. Studies indicate that even women prefer to see women in advertisements.
I'm not saying add pictures of hot chicks to every post on your blog, I'm just saying for best results, know your audience and be clever in your selection.