I just entered the 4th Annual SEM Scholarship contest from Marketing Pilgrim and threw in a couple of twists…but you'll have to go read the competition entry to learn more.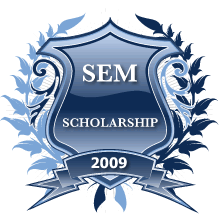 What I Can Say
In addition to their listed prizes, I've added a couple of my own.
1. I enlisted the help of Frank Sinton to donate some free advertising ($1000 worth to be precise) on his video megasite MeFeedia. (disclosure: Frank is a friend and a client).
2. I will be giving away $300 of copywriting (or consulting if you prefer).
All you have to do to win is leave a comment on the post (you could potentially win one part of $11K in prizes).
Meanwhile…
A list of the judges.
Many of which have taught me a thing or two.
What are you waiting for? Think of something clever to say and head on over, I hope you enjoy the article.
Good luck to all of the other competitors and a special thanks to Andy Beal for providing this opportunity. Be sure to follow Andy on twitter and keep up with progress of the contest.