Case Study 1: Improved Sales Through Copy
Client A: Sales Increase
Client A contacted me with the intention of creating search friendly, keyword specific pages for their website.
Misguided Objectives
After some research I discovered that the site could be far more profitable by improving the existing copy and sales pitch (saving them time and money).
The actual goal was to increase traffic and rankings, rather than the perceived goal of creating search friendly, keyword specific pages.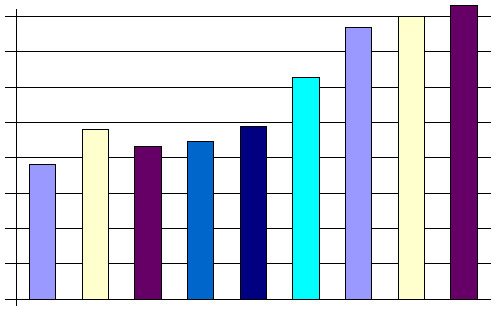 *Actual Chart (with sensitive data removed).
Visible, Measurable Improvements
Using a combination of improved site and ad copy, usability, and traffic generation, Client A experienced record growth. This resulted in an unprecidented 100%+ increase in daily submissions within 7 months, fundamentally doubling the reach of their online marketing budget. Ad spend was actually decreased during this period.
Overall Results
The result of improved copy to all aspects of the online business created a much more efficient bottom line while improving the professionalism and reputation of the company.
*Client A is a real life example (albeit sensitive information has been removed).
For more information on the services I offer, checkout my services or contact me