Case Study 2: Increase Targeted Traffic
Client B: Targeted Traffic Growth
Client B contacted me with the intention of generating traffic to a new website.
Ahead of The Competition
Starting with carte blanche means writing the main pages and generating posts with fresh content as often as possible. I kept up with product releases, news, and press releases within the industry and posted about them ahead of the competition routinely.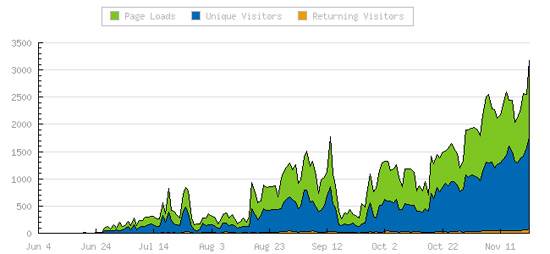 *Actual Chart (courtesy Statcounter).
Starting Strong
A strong start, a good SEO, and the strategy below provided the foundation for a growth spurt of Client B's website from nothing to over 1500 unique visitors a day.
Linkbuilding
Linkbuilding builds traffic at a slow burn if done on a daily basis. My linkbuilding campaign included the following:
Daily submissions to directories – Provide direct and relevant traffic.
Daily submissions to RSS directories – These directories update every time something is published and provide links to deep pages.
Submission to article directories – Submissions are used by webmasters for relevant websites and provide a link back to you as their source.
Linkbait articles – The intention of linkbait articles is to write something interesting and unique enough to attract links from other sites.
Social Networking
The third step was building a social networking campaign. This was done by:
Submitting blog posts to social sites – Good content creates a buzz within social communities and generates traffic to the client's site.
User generated content – Comments are relevant, keyword-rich copy. Addressing and replying to them engages the readership and encourages further conversation.
Natural Increases
Getting traffic for a new or dormant site is often considered the hardest. During this initial period traffic increases from: natural rankings, a constant increase in post count, and social network link progression.
Long Term Results
The results of this can still be clearly seen 1 year on in most major search engines.
*Client B is a real life example (albeit sensitive information has been removed).
For more information on the services I offer, checkout my services or contact me