Case Study 3: Improved User Experience
Client C: Improved User Experience and Involvement
Client C contacted me because they wanted to increase their level of user experience and to get their readers more involved.
The end goal being a higher percentage of conversions through enhanced usability.
The Client's Needs
The client's desired results included:
Increasing organic traffic
Retaining visitors
Increasing lead generation & sales
Developing feedback channels
A Good Product
In theory a good product is easy to sell, Client C was an industry leader and had one of the best products in their field, however they only had the most basic online portfolio.
The idea was to be entertaining and informative enough that when people came to the site, they stayed to read more. While at the same time creating a buzz about the site through social media, directory and RSS submissions.
Results Based
Results would be measured in terms of:
Actual sales
Number of contacts (calls, emails, comments, etc.)
Pageview increases
High Quality Copy
This site was updated using high quality sales copy, link baiting posts, and social media as well as SEO (performed by colleagues). The combined efforts made a dramatic difference at the relaunch, quickly turning the client's site into one of the most attractive in their industry.
Good Copy is Worth A LOT
Natural traffic, from the SEO and writing efforts alone generated somewhere in the region of $500,000 (or equivalent) worth of PPC advertising within 12 months. The site is still experiencing growth and increased traffic.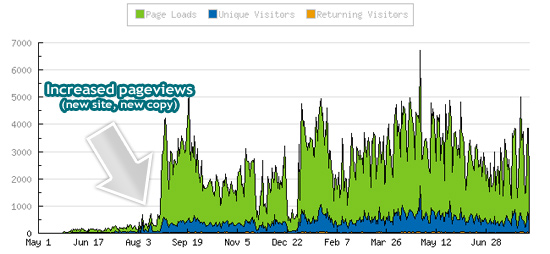 *Actual Chart (courtesy of Statcounter)
More For Longer
The chart shows the increase in pageviews per visitor from 1.5 pages per visitor to between 6 – 7 page views per visitor. – Those in the industry will know that Youtube gets around 12 page views per visitor. (source: alexa.com)
The average length of time spent on the site was increased by over 3 times.
The More They Read the Bigger You Become
With visitors spending so long on the site and visiting so many pages long term growth is assured.
For more information on the services I offer, checkout my services or contact me