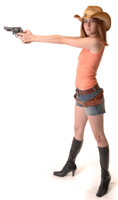 The web is like the wild wild west, much of it is uncharted territory full of cowboys. You can end up in trouble if you don't know how to cover yourself and your website. Luckily, there are precautions you can take which can save your butt should an angry cowgirl hacker come after it.
I wrote an article about the basics of protecting your website(s) called Prevent Your Site from Being Hacked for Hostgator's blog and it just went live.
Be sure to check it out for a list of tips that may prove helpful, and at the very least serve as an important reminder about web security.