Part of being a good writer is understanding the impact images have in your work. What you write should be supported and enhanced through your choice of imagery.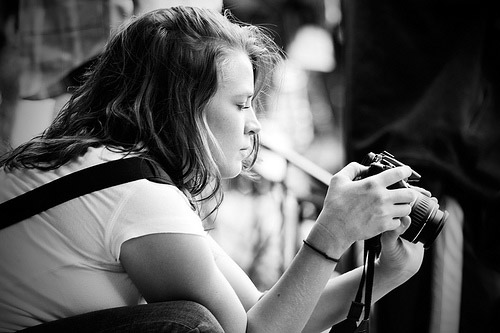 Image source Brian Auer
So Many Image Sites
The images you select and where you choose to find them will vary depending upon their application. There are enough different types of image sites out there to find exactly what you need.
Always read the agreement and terms of use for every image you use, regardless of where you acquired it.
*All links open in a new window
Free Images
For writers on a budget, there are plenty of sites which offer their images for free use under creative commons licenses. There are several different types, but generally they require a link back from you as credit.
Creative Commons Search
One of the best spots to find interesting images people haven't seen before is flickr. Use the creative commons search to find images you are allowed to use.
Should you find images you want to use that don't fall under commons licensing on flickr, email the person who took them and ask for permission. Won't always work, but always worth a try.
Stock.xchng
This site offers free uploads for blogs and websites as long as they aren't used in any trademarks, logos or porn. The image quality varies, but on the whole there are plenty of decent pictures on Stock.xchng.
Webshots
This is an enormous website similar to flickr, only easier. All of their images are free to use on your website or blog. In fact, Webshots provides you with code to use, already linked back to the source for you. Not ideal for commercial blogs, but a great source of images for a beginner or personal blogger.
Stockvault
Stockvault offers free images for use, and don't let that pesky black advert detract you, it only displays on the preview pages.
Cepolina
Cepolina is a little different than the rest, but has a selection of unique images free for use with a link back to their site. All of the images were taken and uploaded by the Cepolina family and friends.
Burning Well
The images found on Burning Well are public domain and can be used for any purpose (be sure to read any terms or licensing for each image).
Morguefile
Morguefile is an archive for post-production images. These images are free for use on the web as long as they are not re-sold, used for anything objectionable or downloaded to create another archive.
Free Stock Photos
The images on Free Stock Photos are free for use with a credit back to them, either in the image or via text link.
Photorack
Photorack images are free for use in both private or commercial aspects. They do not require a credit link, although they do appreciate them.
Photogen
Photogen has a selection of images free to use as long as they don't violate their specific terms of use.
Photorogue
An interesting take on image websites, Photorogue accepts requests. Fill out a quick form requesting specific shots and they will notify their volunteer photographers. If someone can handle the request they will upload the image. There is also a gallery of previous requests but no real terms of use on the site, if you use them link to the source.
Freefoto
Freefoto images are free for use as long as the proper attribution is given for each image. They also offer the purchase of licenses for use of the images without attribution.
Free Photos Bank
Free Photos Bank has images for use with a source link and images uploaded by member which are individually licensed by each photographer.
Openphoto
An interesting collection of images, the pictures at Openphoto are submitted by members and each one is licensed individually.
Designpacks
Designpacks has sets of images with a common theme for download via zip file. The images are free for use as long as you aren't selling them.
Free Media Goo
Free Media Goo is filled with amateur photography and free for use.
WP Clipart
WP Clipart has a huge selection of clipart free for use by all.
Download Free Pictures
Download Free Pictures has a large selection of images pre-formatted and optimized for the web. They are for non-commercial use and require a resource link back to their site.
Openstock Photography
Openstock Photography is part of Wikimedia Commons and is filled with images that can be used under creative commons licensing. Read the license information for each image you use.
Free, But Require Permission
These sites offer free imagery, however the images are licensed by the individual photographers and they require permission for use.
Woophy
A different take on image websites, Woophy has a great selection of images by some amazing photographers. The photos are the property of each individual photographer, prior to use on the web you must receive their permission. May take a little longer, but good images are hard to find.
Abstract Influence
Abstract Influence is a design community where people can upload images and graphic design. No terms of image use on the site, to be safe ask for permission from the photographer prior to using their images.
Royalty-Free Pay As You Go
These sites offer images you can purchase a license for. The type of license will vary by site as will price and image quality.
iStockphoto
One of the more popular royalty-free image sites, iStockphoto images are widely used across the web.
For smaller sizes most images are a dollar apiece, the site is easy to navigate, loads quickly and saving images to lightboxes and downloading them is virtually idiot proof.
Dreamstime
Similar to istock, Dreamstime has a variety of royalty-free images at reasonable prices, you can purchase a pack of credits, or subscribe monthly.
Absolutvision
A convenient option, Absolutvision allows you to subscribe for a day, a month or a year and download up to a specified amount of images within that time.
Big Stock Photo
Big Stock Photo offers a quick sign-up, easy credit purchase and a great selection of stock.
Fotolia
Fotolia lets you buy credits and pay per image or subscribe and pay to download up to 25 images a day for a month, 6 months or a year.
Image Catalog
Image Catalog provides stock images for a reasonable cost and it's easy to use.
Print Quality Images
These sites offer images taken by professionals for intended print use. They offer the highest quality and the highest cost.
Shutterstock
The image quality on Shutterstock has the potential to get you lost for hours. A wide variety and print quality images makes this site worth the high price of admission.
123 Royalty Free
123 Royalty Free is home to some good quality images and offers two different monthly plans, a basic and a premium. Each one allows you to download a specific amount of images every day.
Inmagine
Inmagine is full of beautiful, print quality images. Another pricier option, but if you have a budget it is a good place to bookmark.
Jupiter Images
Jupiter Images offers several different plans, none of them are cheap. Their search draws from a number of other image sites as well, allowing them a wider variety in one location.
Acclaim Images
Acclaim Images carries mainly print and poster quality (priced accordingly). Images can be licensed for web use, however there is are limited timeframe and usage involved.
Now that you have a selection to choose from, get image hunting and use them in your work.